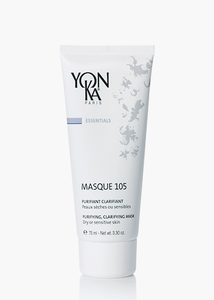 Yon-Ka Paris Masque 105
£3600

£36.00
Tax included.
---
---
MASQUE 105, PURIFYING-SOOTHING FOR DRY TO SENSITIVE SKINS
The brightening and soothing purifying mask
The distinctive use regarding this natural soft mask is that you will not let it dry onto the skin. After being applied, the mask will be kept soft by spraying the LOTION YON-KA mist over it.

Its plus:
* The combined action of 3 different clays that complete each other to purify and brighten the complexion.
* It tightens the pores and brings back glow and radiance to the skin thanks to the toning and astringent properties of the plant extracts and essential oils that compose it.
* Its formulation soothes dry and sensitive skins.
* Fresh and invigorating aromatic scent.
Your face becomes more radiant in 15 minutes

1 to 3 times a week, according to the needs of your skin, after cleansing and spraying the LOTION YON-KA mist, apply the mask in a thick layer on the face and neck. Leave it on for 15 minutes and keep it moist with LOTION YON-KA, then rinse it off with tepid water. Pat dry and follow with your regular skin care routine.
Complete with a spray of LOTION YON-KA mist, hydrating and refreshing.
BEAUTY TIP
On a regular basis, make the most of MASQUE 105 benefits by prepping the skin with GOMMAGE YON-KA or with GUARANA SCRUB
A mask enriched in 3 clays and plant extracts
* 3 clays : montmorillonite, bentonite, kaolin : purifying - brightening
* Savory, essential oil of lemon, Quintessence Yon-Ka (essential oils of lavender, geranium, rosemary, cypress and thyme): purifying – balancing
Details: AQUA/WATER/EAU, MONTMORILLONITE, BENTONITE, KAOLIN, GLYCERIN, PEG-35 CASTOR OIL, CITRUS LIMON (LEMON) PEEL OIL, LIMONENE, LAVANDULA ANGUSTIFOLIA (LAVENDER) OIL, PELARGONIUM GRAVEOLENS LEAF OIL, ROSMARINUS OFFICINALIS (ROSEMARY) LEAF OIL, CUPRESSUS SEMPERVIRENS OIL, LINALOOL, THYMUS VULGARIS (THYME) FLOWER/LEAF OIL, SATUREIA HORTENSIS OIL, BORNEOL, CHLORPHENESIN, CITRIC ACID


* The list of ingredients may be subject to amendments, and the only binding information is the list found on the product itself. Therefore, we invite you to consult the list printed on the packs of the products especially if you are subject to allergies.
Tolerance tested under dermatological control

95%* : purified skin
95%* : excess of sebum absorbed
85%* : skin looking detoxified and cleared
79%* : radiant and glowing skin
89%* : tightened pores

* Self-evaluation - Clinical survey on 18 women , application twice a day for 4 weeks.