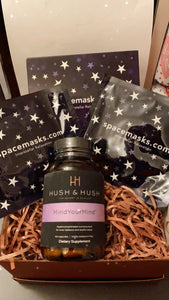 The Gift of Good Sleep💤
£4900

£49.00

Save £20
Tax included.
---
---
5 pack of Space Masks
Spacemasks are self-heating eye masks that will transport you to another dimension - relieving tiredness, eye strain and many other Earthly tensions. The warmth comes alive as soon as you open it. So make sure you're fully reclined and ready for lift off to a great nights sleep 
Mind your Mind 60 capsules 
FORGET THE SHEEP. COUNT ON SCIENCE INSTEAD.
Instilling a state of calmness and peacefulness is step one towards a good night's sleep. This enriched nutraceutical quiets your mind, body and soul. Time-tested botanicals go to work to reduce stress and mental clutter while proven sleep promoters help you fall asleep and keep you asleep, so you can have a good night for a good day. No more tossing and turning.