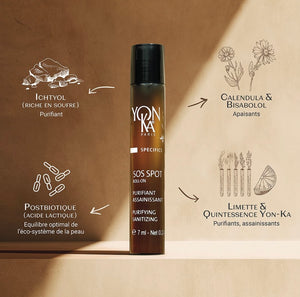 YON-KA SOS SPOT ROLL-ON
£2400

£24.00
Tax included.
---
---

The ultra-precise solution to imperfections!

This new roll-on is able to sanitise, purify, soothe and promote the healing of blemishes in a targeted way.
Result: disappearance of imperfections in
24hrs

SOS Spot Roll On has a portable format which allows for application at the first signs of discomfort related to the appearance of a pimple and allows precise and regular applications throughout the day.
Minor blemishes disappear without a visible trace. 
Ingredients:
Ultra powerful active ingredientd:: Ichtyol (rich in sulfur)
- purifying postbiotic (lactic acid) - 
95% Ingredients of natural origin
No alcohol, No preservatives
Natural formula
SOS SPOT ROLL-ON is a complete and balanced formula for a healthy skin, without imperfections.
Yon-Ka draws on the benefits of nature and the effectiveness of science for visible results in 24 hours1 !
This alcohol-free concentrate is suitable for everyone and all ages.
Formulated without preservatives, vegan, gluten-free and dermatologically tested, it is composed of 95% of natural ingredients.
Balanc of the skin's eco-system
Lime & Quintessence Yon-Ka - purifying, cleansing
Calendula & Bisabolol - soothing