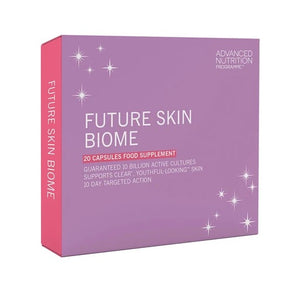 Limited Edition Future skin biome Supplements
£2000

£20.00
Tax included.
---
---
Future Skin Biome Duo features a 10 day course of two pioneering supplements: Skin Youth Biome™ and Skin Clear Biome™.
Discover supplements with microbiome technology synergised to nurture the connection between a healthy gut and clear*, youthful-looking** skin.

A dose of one of each capsule delivers daily a guaranteed level of 10 billion active cultures of skin-friendly bacteria L.rhamocous, P.acidilactici, B. longum, L.reuteri, L.paracasei, B.bifidum, L.helveticus and S.boulardii, as well as zinc and vitamin C.