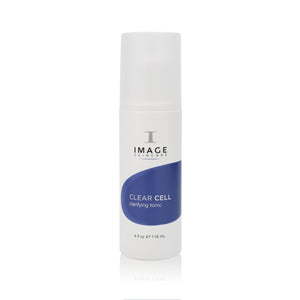 IMAGE SKINCARE Clear Cell Clarifying Tonic
£3700

£37.00
Tax included.
---
---
Quick Guide
AHA/ BHA clarifier
Gently removes excess surface oil and bacteria
Refreshes the skin with essential herbal extract
Excellent for travel to remove excess oil
DESCRIPTION
IMAGE SKINCARE CLEAR CELL CLARIFYING TONIC
Image Skincare Clear Cell Clarifying Tonic is a salicylic acid based toner that removes oil from the skin gently while nourishing the skin with herbal extracts of ivy, green tea, and tea tree.  Oil is one of the primary causes of acne. Clear Cell Salicylic Clarifying Toner corrects this problem by removing excess oil, thus inhibiting the acne-causing action of bacteria, and preventing acne at the source.
Clear Cell Salicylic Acid Clarifying Tonic won't over-dry or irritate your skin as it contains soothing herbal extracts that relieve inflammation and prevent dryness
Suitable for active acne, acne prone skin, oily skin. 
Precaution: This product contains salicylic acid, don't use if you have an allergy to Aspirin, pregnant/ trying to become pregnant or breast feeding. Don't use products that contain Alpha Hydroxy Acid (AHA's), Salicylic Acid and Retinols if taking Roaccutane and for up to a year after you have stopped taking it.
Products that contain Alpha Hydroxy Acids (AHA's) or Beta-Hydroxy Acid (BHA) may cause initial flaking, tingling or irritation to the skin. For some this may be part of the normal resurfacing process. This generally improves as the skin 'gets used' to the treatment. AHA and BHA products may be introduced with less frequent use, and application can be increased as the skin becomes accustomed to it (follow product directions). At first start by gradually introducing one AHA or BHA products at a time into your skincare regime. Also some breakouts may occur initially, due to purging of the follicles. Discontinue use if you have severe redness, itching, burning, rash, swelling or blistering.
Apply a sunscreen daily when using products that contain Alpha Hydroxy acids (AHA's) & BHA's.
HOW TO USE
Saturate gauze and gently remove surface oils.
Repeat if necessary for additional clarifying and toning.
Because excessive drying of the skin may occur, start with one usage daily, then gradually increase to two or three usages daily if needed or as directed by a doctor.
If bothersome dryness, irritation or peeling occurs, reduce usage to once a day or every other day.
If going outside use a sunscreen.