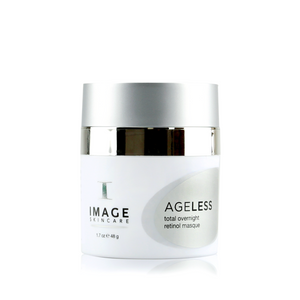 IMAGE SKINCARE Ageless Total Overnight Retinol Masque
$12000

$120.00
Tax included.
---
---
Quick Guide
Advanced infusion of triple action time-released retinol technology
Helps to increase firmness
Reduces the appearance of fine lines and wrinkles
Improves skin imperfections
IMAGE SKINCARE AGELESS TOTAL OVERNIGHT RETINOL MASQUE
Image Skincare Ageless Total Overnight Retinol Masque reveals new radiance with this concentrated overnight retinol masque, formulated with water bank technology to continually release hydration and lock in nutrients for the ultimate beauty sleep. Triple action KemSpheres create a thin film to ensure optimal coverage and controlled penetration, reduce TEWL thus opening pathways for active penetration and offer a time-released action of retinol. This increases firmness, reduces the appearance of fine lines and wrinkles and improves skin imperfections. Paraben free.
IMAGE Skincare's highly effective AGELESS line utilises AHA blends, nutripeptides, retinols, lightening agents and antioxidants to produce younger looking skin. Skin that looks older, photo-damaged, pigmented, dull or tired will be rejuvenated with the use of these innovative anti ageing products.
HOW TO USE
Apply masque in an even layer to freshly cleansed skin 2-3 times per week. Leave on overnight and cleanse skin with tepid water the following morning.
Precaution: Products that contain Alpha Hydroxy Acids (AHA's) or Beta-Hydroxy Acid (BHA) may cause initial flaking, tingling or irritation to the skin. For some this may be part of the normal resurfacing process. This generally improves as the skin 'gets used' to the treatment. AHA and BHA products may be introduced with less frequent use, and application can be increased as the skin becomes accustomed to it (follow product directions). At first start by gradually introducing one AHA or BHA products at a time into your skincare regime. Also some breakouts may occur initially, due to purging of the follicles. Discontinue use if you have severe redness, itching, burning, rash, swelling or blistering.
Apply a sunscreen daily when using products that contain Alpha Hydroxy acids (AHA's) & BHA's.
Key Ingredients
KemSpheresTM Retinol: Unique delivery system allows pure retinol to be easily absorbed into the skin in a stable form, resulting in less irritation and superior results
Water Bank Technology: Microspheres of marine collagen and GAGS lock in water and release hydration into skin in a continuous fashion.
Fiber Booster Plus Citrus (Medica limonum leaf cell extract): Stimulates fibroblasts, supports the matrix of the skin. Decreases enzyme responsible for collagen breakdown. Protects epidermal cells against free radicals
SenestemTM (Plantago Lanceolata Leaf Extract): Targets microRNA's to prevent the degradation of protein synthesis. Assists in controlling inflammation, oxidative stress and lightening pigmentation spots. Brightens, firms and improves skin density.
Syn Coll (Palmitoyl tripeptide-5): Significant anti-wrinkle effect, stimulates collagen synthesis, provides collagen protection from degrading enzymes
SoluMoist (Tamarindus Indica Seed Polysaccharide): Smooths skin texture, hydrates and reduces the appearance of wrinkles