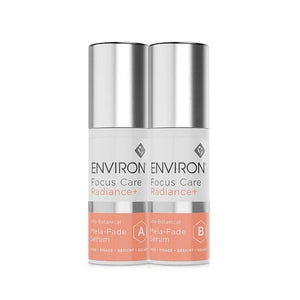 ENVIRON FOCUS CARE RADIANCE+ VITA-BOTANICAL MELA-FADE SERUM SYSTEM
$9300

$93.00
Tax included.
---
---
This concentrated blend of vitamins and botanicals is specially selected to assist improving the appearance of discolouration within the skin leaving the skin looking more evenly toned and healthier.
Serum A helps to guard the skin against photoageing and pigmentation whilst also helping to protect the basement membrane. It also helps to prevent the generation of stagnant melanin by inhibiting tryptase activity, assisting to reduce the appearance of age spots.
Serum B helps to suppress melanin production and assist in the prevention of pigmentation, leaving the skin looking clearer and more radiant.
Benefits of Environ Focus Care Radiance+ Vita-Botanical Mela-Fade Serum System:
Suitable for all skin types
Reduces hyperpigmentation
Lightens and brightens the skin
Suitable for sufferers of pigmentation and skin discolouration
How to use:
1. Pre-cleanse, cleanse and tone with your preferred Environ products.
2. After applying Mela-Prep Lotion, mix and apply equal amounts of Serums A and B to the darkened areas of skin before moisturising with your recommended Environ vitamin A moisturiser and applying a sunscreen. Use morning and evening.
*For advanced Environ users: Optimal results can be achieved by including the use of the DF Mobile Skincare Device, Cosmetic Focus-CIT®, Cosmetic Roll-CIT® or Cosmetic Gold Roll-CIT® into your daily skincare routine in the evening.
Size:
2 x 30ml