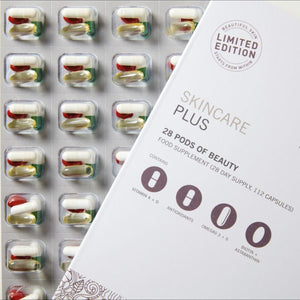 ADVANCED NUTRITION PROGRAMME Skincare Plus (112 Capsules)
£5700

£57.00
Tax included.
---
---
Quick Guide
Healthy skin
Nourished, strong hair and nails
Lighter and brighter complexion
Conveniently perforated to carry in your handbag or suitcase
DESCRIPTION
ADVANCED SKIN NUTRITION SKINCARE PLUS BOX (40 CAPSULES)
Do you want to take care of your skin, hair & nails?
SKINCARE PLUS
4 beauty supplements for healthy skin, hair and nails.
Includes four beauty supplements for healthy skin, hair and nails:
Healthy skin
Nourished, strong hair and nails
WHAT'S IN THE POD
Vitamin A D – for healthy skin
Omegas 3 and 6 – for healthy skin
7 Antixoidants – for healthy skin
Astaxanthin plus biotin – for nourished, strong hair and nails