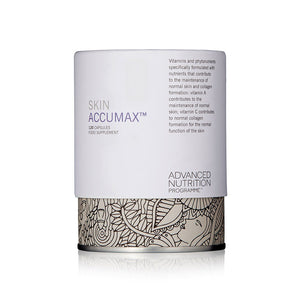 ADVANCED NUTRITION PROGRAMME Skin Accumax (120 Capsules)
£8300

£83.00
Tax included.
---
---
Quick Guide
Maintains normal skin and vision.
Contributes to the normal function of the immune system
Plays a role in the process of cell specialization.
DESCRIPTION
SKIN ACCUMAX (120 CAPSULES)
Do you want to help clear problematic skin?
CLEAR FLAWLESS NATURAL SKIN
Skin AccumaxTM is a brand new, scientifically advanced, nutritional supplement which works from within for clear, flawless skin naturally.
WHAT IS SKIN ACCUMAX?
Skin AccumaxTM has a unique formula containing our ground-breaking and skin-perfecting ingredient DIM (a patented, highly active plant compound), as well as other complexion enhancing active ingredients.
Every person is different and results vary. Some people start to see improvements within a couple of weeks, while others take three months or more. We recommend that you initially take Skin Accumax for at least 14 weeks.
WHAT MAKES ACCUMAX SO SPECIAL?
GROUNDBREAKING INGREDIENT: It contains a very special blend of ingredients – including our groundbreaking ingredient, DIM – to maintain healthy looking skin and a flawless complexion.
ONE OF A KIND: The formulation is so ground-breaking that it is patented. There is quite literally no other product like Skin AccumaxTM.
NO CHEMICALS: Unlike tropical treatments, Skin AccumaxTM addresses problem skin from the inside out. It won't cause dryness or flakiness and doesn't contain harsh chemicals.
ACTIVE INGREDIENTS: Skin Accumax contains a super-high concentration of active ingredients for people prone to problem skin. We couldn't get any more in if we tried.
EASILY ABSORBED: It's easily absorbed by the body so it gets to work much quicker.
HEALTH BENEFITS
The European Food Safety Authority is the agency that provides independent scientific advice and reviews the scientific evidence relating health claims to vitamins and minerals. These are the claims that this independent agency has approved for ingredients in our Skin Accumax.
HOW TO USE
Adults 16 years and over: Take one or two capsules twice a day with meals or as your health professional advises. To get the full benefit of this product, we recommend starting with two Skin AccumaxTM twice a day for at least 14 weeks. However some people choose to take this dosage for several months for best results. After this time you may wish to reduce to one capsule twice a day. Do not exceed stated dosage. This product should not be used as a substitute for a varied and balanced diet and healthy lifestyle. Do not take if you are pregnant, breast-feeding or planning a pregnancy. If you are under medical supervision, please consult a doctor before use. In the very unlikely event of an adverse reaction to Skin AccumaxTM we recommend that you stop taking the product. If problems persist please consult your medical practitioner. Keep out of the reach of children. Harmless changes in urine colour may occur with the use of this product. Store below 25°C in a dry place away from direct sunlight and heat.
INGREDIENTS
Anti-caking agent: tricalcium phosphate, diindolylmethane complex (starch, diindolylmethane, vitamin E [as d-alpha tocopheryl succinate], soy phosphatidyl choline, silica), microcrystalline cellulose (plant fibre), Vitamin C (as ascorbic acid), Anti-caking agents: magnesium stearate and silicon dioxide, Vitamin A (retinyl palmitate) Free from gluten, wheat and dairy